Zip-Lining at Domaine de Chazal
The south of Mauritius is greener than green. The GREEN green of sugar cane, palms and trees hanging their branches over deep valleys, combined with birdsongs and a feeling of freedom. That's the beginning of a small adventure.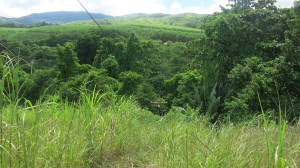 Domaine de Chazal offers Zip-Lining tours where you cross the valley of Rivière de Galets in heights of 23 to 42m. When arriving at the Domaine for the 9 am tour, you are offered tea and coffee and the friendly guides will give you some information. You can also explore the beautiful Domaine which is nicely designed with lakes, sun lounges, a restaurant and even a pond.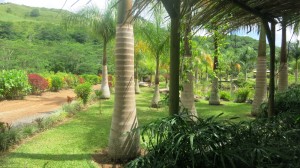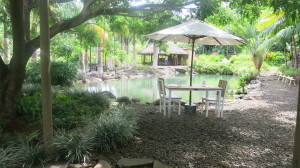 In a professional manner, the guides explain the climbing harness to you and help you putting it on. After a short ride with the 4X4 we started on one side of the valley.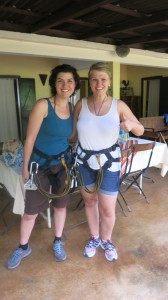 The guide puts the rolls on the zip line and now it is on you to run and jump. This is definitely the most scary part of the adventure! But once you overcame your fear, you'll just enjoy the ride and the great view!
After several stages, you hike to a little waterfall where you can swim and even jump from the top of it. So don't forget your swimwear!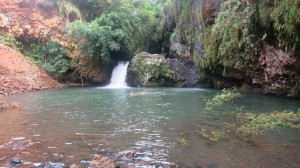 Once you finished all 6 stages, the 4X4 picks you up to bring you back to the Domaine, where you have the possibility to take a shower and rest before a yummy Mauritian lunch is served.
The second group is starting the tour at 12:30h.
Make sure to wear long trousers and use mosquito repellent! For those who want to swim in the waterfall, don't forget swimwear and a towel. The guides provide little backpacks and water.
Fees:
Adults:
Zip-Lining with lunch: 2300 Rs (57,50 EUR)
Zip-Lining without lunch: 2100 Rs (52,50 EUR)
Kids (under 12 years):
Zip-Lining with lunch: 1600 Rs (40 EUR)
Zip-Lining without lunch: 1350 Rs (33,75 EUR)
Contact:
Incentive Partners (Mauritius) Ltd
Impasse de La Foret
Chamony
Tel: +230 4223117