Water Sports
Mauritius is a perfect destination for different water sport activities. In the following article I will give you an overview about different water sport possibilities:
SURFING
Surfing is possible in the sea on the west coast of Mauritius. The season for surfing is principal in the wintertime in the months from May to October. Still in the rest of the year you will get some good waves in Mauritius.
The surf, especially in Tamarin Bay, became famous in Mauritius in the late 60th when the Hippie-surfer mainly from Australia came to Mauritius. Tamarin Bay was a very good and unknown spot at that time. But still today there are some good surfing places on the west coast of Mauritius. These places are not that special anymore than they have received a regard as in the 60th and also the climate change brings out that the conditions for surfing decreases.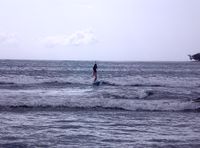 The best spot for surfing in Mauritius is still Tamarin bay where the Black River flows into the Indian Ocean. Tamarin Bay provides good conditions for beginners who can stay close to the mouth of the river where the water is shallow and the ground is sandy. Profs on the other hand can surf further outside on the riff on the left hand side of the river's mouth. There you can found quite high clean left braking waves. If good conditions are given, you will see many surfers in the sea. It is also interesting for non surfers to come and watch them.If you don't have your own equipment you can rent a board at the Tamarina Hotel for roundabout € 20 for four hours. The friendly water sport team of the hotel offers also lessons for beginners and if you want to get information about the wave conditions you can ask them every time.
In addition Le Morne, which is located south, about half an hour by car from Tamarin provides a good surfing spot called One Eye Wave. This spot though, is only surfable for Profs because of the highness of the waves, the strong current and the riff close under the wave. Furthermore the spot is located quite far away from the beach with the result that most of the surfers reach the spot One Eye by boot. Surf clubs don't teach at this sport and even don't allow surfing there with their rented equipment.
If you still want to surf in this spot I would recommend you to go only together with local surfers who know one's way over there.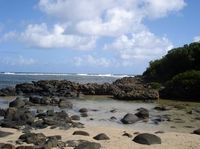 The third known surfing spot is located approximately 15 km south of Le Morne in the Riviere des Gallet in front of the small island Ilôt Sancho. This spot is also not suited for beginners because of the strong current and the shallow water over the riff.
On the Ilôt Sancho there is given local surf competition sponsored by Billabong and Quicksilver once a year in November or December where you can look at Mauritius best surfers.
Dangers
In Tamarin Bay are founded the so called "White shorts"which are active on worldwide known surfing spots. The "White Shorts" concerns about a group of surfers who surf quite unfair and also bully tourists. They can be very brutal in other countries but in Mauritius they are relatively harmless. Nothing really happened even to foreign surfers since they exist here. As long as you meet them with respect and share the waves fairly with them there is no need to worry. If you want to surf every wave yourself and don't give other surfers the chance to catch them, than you could get in a difficulty which is a matter of course!
SOLAR SEAWALK IN GRAND BAY



Are you interested in watching natural beauty? Then come to Grand Baie for the Solar Underseawalk to have a look what is under the ocean in a nothern tropical lagoon! Together with the Solar Seawalk Team consisting of 5 trained and experienced companions (One platform manager, two surface divers, one monitor and a boatman) you will get to see the corals and tropical fishes, which are found in the three meter deep water of the Mauritian lagoon. Additionally you will be handed some bread, so you are able to feed or even touch the coral fishes.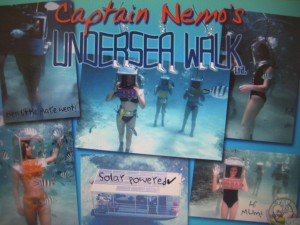 This underwater tour is suitable for all people aged from 7 years old and above. Regardless of whether you are an experienced swimmer or a non swimmer- everybody has the possibility to enjoy the gentle walk  on the bed of the indian ocean.
There even has been a 87 years old lady who walked the solarsea Trip on crutches. She wanted to show her grandchildren that she could do it. The lady savoured the trip without any problems. In fact she liked the walk to such a degree, that she came two years later, to do the dive again.
The Solarsea Walk in Grand Baie has been the pioneer of this activity in Mauritius since 1989. After eleven years of existence they redesigned their platforms to be environmently friendly. This meant installing solar powered compressors instead of normal petrols ones. This unique solar powered diving system in Mauritius, sends a constant stream of pure fresh air to your helmet, thus you have the oppotunity to walk leisurely on the seabed.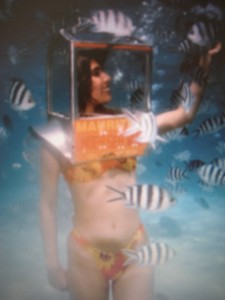 If you are interested to make this astounding experience then please fill out the form below.
Please note that our partner requires 50% of the amount when you confirm the booking and the rest at latest 7 working days prior the Solar Seawalk session. In order to make the payment we will send you an invoice with the bank details of our partner. Furthermore, we will transfer your personal data to our partner so that you are updated with any possible changes that may affect your booking (e.g. adverse weather or other emergency conditions). Cancellations before 24 hours will be charged a 50% fee. It can also happen that Solar Seawalk cancels the trip due to any unforeseen circumstances, such as bad weather. But the trip will postpone for another day.
Pick up times are from 9 am till 3 pm. If it is a big group at 8.30 am. Nevertheless you should be fifteen minutes early at the meeting point- the Solarsea Walk kiosk in Grand Baie is next to the Banana Cafe. If you are coming with your car, you can park it at the Caltex station.
The Solarsea Walk is open 6 days per week, closed Sundays, Christmas and New Years Day.
The price for a SolarSea Walk is 1400 Rs per person. Visitors who do not want to dive are welcome aboard for 400 Rs per person.
The total time of the excursion is approximately one hour and half (the walk itself takes about 25 minutes).
Make sure you do not forget your swimming suit, a towel and perhaps some warm clothes for the way back.
That way you are well prepared to discover the wet side of Mauritius!!
KITEN
My first kite lesson on Sylt was many years ago. The wind was very choppy over there und I had enough to do with actuating the kite. I never got on the board in the right way. In each vacation on the ocean I dreamed about learning how to kite the right way.
On Mauritius the conditions of doing kite sports are ideal. Most of the time you have constant wind, the water is even enough to stay in it, there are no waves and not to many amateurs are on the water.
Yoan, my kite teacher, has a lot of experiences and with his crew he is nearly daily at the kite spot behind Marmara Club Hotel. His trailer is situated there with a big variety of different kites and boards. Even a small lounge is situated there too, so that no visitor needs to stay in the wind.
Forthwith I met Seve (age of 45 years). He came from England and it was his 3nd lessen today. He admitted me quietly that he was a little nervous, because it was the fist time he had to deal with the board and the kite at the same time. We amused each other and we realised that there are not only machos in kite scene. Everybody is welcome over here.
In La Gaulette, which is very close to the kite area, are some kite shops and amiable restaurants where you can meet some kiter you can remember from the beach.
But further on:
Neoprene wetsuit, trapeze, neoprene shoes, a helmet and now let us go in the water. Yoan is a acutely sympathic and competent kite teacher. He could see immediately what I could do better to get on board than I did it at that moment. Next time I practised to get on board and I noticed that on the one hand I channel the kite to intense or to loft. What ever I tried I finished inside the water each time. The salt-water is extremely salty over here and I crave for normal Water to drink.
But now way! One and a half hour we had to be outside and I was trying to find the right point from time to time again, on which I will fly onto the water instead of dipping into the water. Yoan gave me a lot of tips and after a while I understood where my balance point has to be.
I did it! I drove some meter but, because of despair, I finally had to jump into the water: nobody told me how to turn around.
Happy and with a good feeling of claimed muscles did I go back to the beach.
SNORKELING
Where to go snorkeling? After so many questions being asked I decided to find it out myself.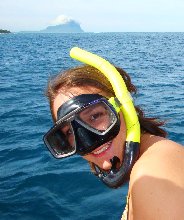 First I had to get used to the glasses, and the snorkel and so I found out that it is really as easy as it looks and everyone says. Probably really everyone who can swim is able to snorkel and should not miss the chance to see all that is hidden in the sea! Here you can find some hints and an overview over the spots that I have tested.
– The chance to get a sunburn under water is really extremely high. Even with waterproof sunlotion with the highest sun protection factor you should not stay too long in the water. The best idea probably is just to take on a T-Shirt. Please even then do not forget to put sunlotion danger to be heavily burnt quite high.
-It is obvious, but was not clear to me at first, that the most fish can be seen where the reefs, plants and stones are. The beach of our dreams does often not have easy accessible snorkling spots. Especially water sports like water skiing does not really help for a colorful underwater world. So it can be helpful to swim at the edges of the beaches and bays.
– If the corals are too far away you can try to dive. Just keep your breath and try to dive down. Please don't forget to equalize the pressure by breathing slowly out and keeping your hand on your nose. Please do not try on your own and start slowly.
Pereybere
If you are already in Pereybere it is definately worth to go a little bit snorkling. Especially on the left side (when you look at the sea) there some nice fish can be seen. A little minus point is the streams which can annoy a bit. On the right side of the bay I could only find dead corals without any plants. In the whole there is some nice places to discover under water, but there is better places in the north like Trou aux Biches.
Mont Choisy
Mont Choisy is not really good to go snorkling. The visibility under water is average and hardly any fish or corals can be found. Especially the north of the beach is not interesting. In the southern section you might find some fish. After one hour of snorkling and a sunburn I could see a zebrafish and a sea cucumber. You just need a little patience. For snorkling Trou aux Biches is better and not too far.
Trou aux Biches
The public beach of Trou aux Biches is very good to go snorkling. The water is extremely clear and there is almost no drift. What makes Trou aux Biches become such a good snorkeling spot is, that the reef is close and the underwater world easy accessible. Just go in the water, swim some metres, take on the glasses and you can see beside colorful corals uncountably many fishes. The best snorkeling spot that I've tested so far!
Flic en Flac
The whole beach is good for snorkling. If you are a bit patient you will find wonderful colorful fishes. To get into the water it is better to wear shoes or flippers, as there are many shells. The water is quite clear and there are not many boats. Especially at the northern end of the beach, at the "Danger"-sign the underwater world is incredibly beautiful.
Le Morne
Another really good snorkeling spot is in Le Morne at the hotel Le Paradis. The beach is not easy to access (you need to go through the hotel), but it snorkling is the more beautiful. Just get into the water and from there you can see many beautiful fishes. The water is extremely clear but can be a bit wavy as there is a lot of wind. To enter Le Paradis a 500 Rs fee has to be paid. But those 500 Rs can be used inside the hotel to pay for food and drinks.
Blue Bay
Blue Bay is a well-known snorkeling spot. The water is most of the time clear and there are lots of fishes. The nice thing about blue bay is, that there are many boats who bring tourists inexpensive and easy to the best spots.
But there is no need to go snorkeling that far – also from the beach is quite good. Looking on the sea on the right hand side there is wonderful corals and plenty of fish in all the colors of the rainbow. The only reason which could get me out of the water was the fear of getting a sunburn!
MAP
On this card you can find the places that I have already tested. Just click on the places on the map and open the window and a window will open which contains some more information. If you zoom a bit closer you can als see places that I highlighted.
Snorkeling Mauritius auf einer größeren Karte anzeigen
Scuba Diving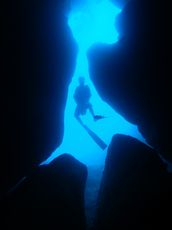 Those of you who like snorkeling will definitely love scuba diving. It's one of the most fascinating things I've ever experienced. You discover a whole new world down in the magnificent blue of the ocean. A world so colorful it's hard to imaging, fishes in all sizes and colors, exotic creatures like moraines, turtles or even dolphins and corals which resemble the forests and offer a home to most of the little fishes.
No matter where you stay in Mauritius, south, north, east or west the whole island is surrounded by fabulous reefs and you're scuba diving team on the spot will provide you with everything you need to experience an unforgettable day under water.
In the following you will find a few diving centers we can warmly recommend.
The North
Orca Dive Club – Pereybère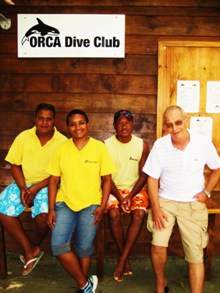 The Orca Dive Club was founded by V. Clausen and W. Thaler at the beginning of the 1990th . For V. Clausen a dream came true when the first dive center was opened in a little village in Egypt.
Soon Orca Dive became really successful and expanded above the borders of Egypt to Bali, Capverd and Mauritius.
The team of Orca Dive Mauritius counts five members. Bernard and Richard (dive instructors), Pascal and James (dive masters) and Valeria. Each member of the team is very friendly and always keen on helping you out with everything you might need. So you can be sure to start your dive safe and very well informed. They offer a wide variety of diving opportunities no matter if you are just starting or are already a certified diver. You can also do your PADI with Orca Dive. All courses are offered in English, French and German.
If you are already a certified diver and you choose Orca Dive for your dive experience here in Mauritius you can be sure that they are going to take you to different dive spots on each dive.
Orca Dive Club is the perfect choice for everyone who likes to get an unforgettable memory and one of the safest (certified by the Mauritius Scuba Dive Association) ways to experience the underwater world of Mauritius.
| | |
| --- | --- |
| Courses | |
| PADI Scuba Diver (2days, incl. equipment) | 190,00 Euro |
| PADI Open Water (4days, incl. equipment) | 340,00 Euro |
| PADI Advanced OW (2days, 5dives) | 260,00 Euro |
| PADI Rescue (3days) | 350,00 Euro |
| PADI Dive Master (3weeks) | 628,00 Euro |
| | |
| Dives | |
| 1 dive (incl. tank and weights) | 32,00 Euro |
| 2 dives (incl. tank and weights) | 54,00 Euro |
| 3 dives from the boat | 93,00 Euro |
| 5 dives from the boat | 152,50 Euro |
| 6 dives from the boat | 180,00 Euro |
| 10 dives from the boat | 290,00 Euro |
| 12 dives from the boat | 340,00 Euro |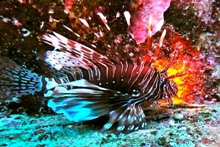 Book and certification on an additional cost of 60,00 Euro
Further information about prices and special offers can be found on
www.orca-diveclub-hibiscus.com
Languages:
All courses are offered in English, French and German.
Opening hours:
The team of Orca Dive will be at your disposal the whole year from 8a.m. to 5p.m.
Depending on the number of divers there will be up to three tours per day.
Direction:
Orca Dive is located at the Merville Beach Hotel and the Hibiscus Hotel on your way from Grand Baie to Pereybère.
Contact details:
Orca Dive Clubs Orca Dive Clubs
Merville Beach Hotel Hibiscus Hotel
Arcades Les Dabees Royal Road Pereybère
Coastal Road Grand Baie Tel.: +230 2691755
Mobil: +230 7163167
Email: [email protected]
Ocean Spirit – Diving School in Pereybère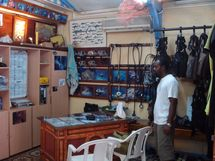 Ocean Spirit is a small independent diving school in Pereybère in the north of Mauritius. The team of Ocean Spirit counts 4 members with years of experience. There are two dive instructors and two dive masters. All team members are very friendly, humorous and good at their job. Since 2005 Ocean Spirit is under the 222 best diving schools of the world. The boat of Ocean Spirit can transport 8 people and yet the groups normally don't count more than five people. This gives the team the chance to treat everyone individually which is very important especially for beginners. The Team tries to find new diving spots all the time. So far they can offer dives at 40 different locations. Diving with Ocean Spirit is always something special as they take you to places only they know of. Don't hesitate and let Ocean Spirit carry you off to the secret underwater world of the Indian Ocean.
Ocean Spirit is certified by the Mauritius Scuba Diving Association so you can feel save and secure on each dive.
Courses:
CMAS Level 1 (6 dives) 260,00 Euro
CMAS Level 2 (10 dives) 500,00 Euro
PADI Scuba Diver 150,00 Euro
PADI Open Water 260,00 Euro
For Kids:
Dolphin Bronze 150,00 Euro
Dolphin Silver 170,00 Euro
Dolphin Gold 190,00 Euro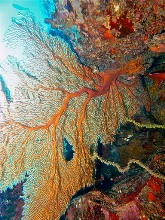 Dives:
Refresher Dive 15,00 Euro
Single Dive 32,00 Euro
3 Dives 90,00 Euro
6 Dives 168,00 Euro
10 Dives 260,00 Euro
Photographic Dive 55,00 Euro
Sunrise Dive 55,00 Euro
Daytrip to Flic en Flac or Shark Point 110,00 Euro (all inclusive)
Isletsafari to Flat or Gunners Island 90,00 Euro (2 dives, lunch, coffee)
Languages:
All courses are taught in English, French and German.
Opening Hours:
Ocean Spirit will provide two to four dives every day from Monday to Saturday from 8a.m. to 4.30p.m. The earliest dive starts at 9.30a.m. Diving is possible on Sundays upon request
Contact Details:
Olivier und Cedric
Coastal Road, Pereybère – Mauritius
Tel: +230 263 44 68 or +230 766 31 68
Email: info@osdiving.
More information on http://www.osdiving.org/
The South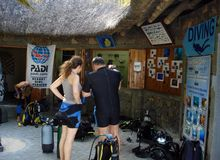 Akwabon Island Diving Centre – Le Morne
The Akwabon Island Diving Centre is located in the Indian Resort Hotel in Le Morne. The was founded in 1996 but had a change in management in 2008 through which the whole concept was renewed.
The team counts 5 members, one dive instructor, two dive masters and two skippers. All are charming and very competent. Akwabon offers courses for PADI as well as for CMAS and a lot of different individual dives to about 40 spots. Their specialty is the shark dive at Saint Jacques', which is just a few minutes by boat. The Akwabon Island Diving Centre tries to treat the underwater world with respect and day support different marine projects such as the 'Durable Management of the marine Resources' which is initiated by the Mauritius Marine Conservation Society.
Safety and quality are the two keywords related to Akwabon and for that the diving school is certified by the Mauritius Diving Association.
| | | |
| --- | --- | --- |
| Courses: | | |
| CMAS Level 1 (6 dives) | Rs 10.000 | € 250 |
| CMAS Level 2 (10 dives) | Rs 17.000 | € 500 |
| Scuba Diver | Rs 9.000 | € 225 |
| PADI Open Water | Rs 13.600 | € 340 |
| Adventure | Rs 8000 | € 200 |
| PADI Advanced Open Water | Rs 11.000 | € 275 |
| PADI Rescue Diver | Rs 15.000 | € 375 |
| Dive Master | Rs 16.000 | € 415 |
| Resort Courses | Rs 2.400 | € 60 |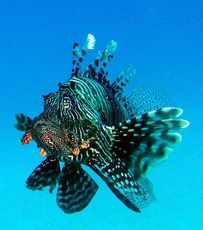 | | | |
| --- | --- | --- |
| Dives: | | |
| Refresher Dive | Rs 2.400 | € 60 |
| Resort Pool Dive | Rs 800 | € 20 |
| Single Dive | Rs 1.600 | € 40 |
| 5 Dives | Rs 6.800 | € 170 |
| 10 Dives | Rs 13.000 | € 325 |
Languages:
All courses are offered in French, English, German and Italian.
Opening hours:
The Diving Center is opened seven days a week.
Monday – Sunday: from 8.30a.m. to 4.30p.m.
Sunday: from 9.00a.m. to 12.30p.m.
And offers to dives a day.
Contact Details:
Akwabon Island Diving Centre
Indian Resort, le Morne – Mauritius
Pascal Ava
Mobile: 00230/7582375
Email: [email protected]
Further information on http://www.akwabon.com/
Easy Dive – Le Morne
Easy Dive has three diving centers. Two in Le Morne (Le Berjaya and Les Pavillons Hotel) and one in Pointe aux Piments (Le Meridien Hotel). All team members have year of experience which you can feel right from the start. They help the divers with everything they might need – equipment, preparations, and questions – always with a smile on their faces. You feel in good hands and well prepared for your dive. They know the underwater world by heart and will surely show you some amazing spots.
They offer a variety of PADI courses: Open Water, Advanced, Medical First Aid and the Dive master as well as night dives. Prices upon request.
Contact Details:
Email: [email protected]
Website: www.easydivemauritius.com
The West
Ticabo Diving School – Flic en Flac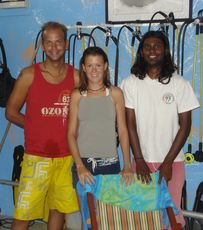 The Ticabo diving school is a small independent diving school in the coastal resort Flic en Flac in Mauritius. The friendly team of Ticabo counts three fully-fledged divers among them there is one dive instructor and two dive masters. Additionally one free-lance dive instructor, responsible for the PADI courses is working at Ticabo. The entire team is very well experienced in diving since many years. The passion which all team members of Ticabo spread out confers automatically on the clients.
The Ticabo diving school opened in September 2007 and since then it developed to a qualitative diving school through the excellent work of the team.
During your diving activity you will feel very well serviced and you will receive all the attention from the team.
The members of Ticabo are very experienced with the diving spots in Mauritius and they will introduce the gorgeous underwater world of the Indian Ocean perfectly to you.
The equipment of the diving school equates a high level of quality and safety. Furthermore the Ticabo diving school is proofed by the Mauritian Scuba Diving Association.
Courses:
CMAS Level 1 (6 dives)
CMAS Level 2 (10 dives)
PADI scuba diver (2 lagoon dives + 2 dives)
PADI open water (5 lagoon dives + 4 dives)
PADI advanced (5 dives)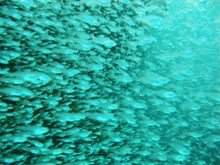 Dives:
Sea dive
Discover dive
Night Dive
Safari (2 dives + Lunch on Coconut Island)
5 dive package
10 dive package
Languages:
All courses are available in English and French.
Opening hours:
The diving school Ticabo in Flic en Flac in Mauritius is open from Monday to Saturday from 8.30 am to 5.00 pm. Usually there are taking place two dives: one at 9.00 am and one at 2.00 pm every day. If you want to go diving at other times you can also make individual appointments.
Direction:

Ticabo diving school is located on the coastal road in Flic en Flac. Head the coastal road down direction to Wolmar and you will find Ticabo just behind the Manisa Hotel opposite of the public beach.
Contact:
Xavier Pigeot & Agnes Bax
Les Sables Roses,Royal Road
Flic en Flac
Phone: +230 453 5209 Fax: +230 453 90, Mobil: +230 769 5857 , Other numbers: +230 753 3378
Email: [email protected]
Further information on http://www.dive-ticabo.com//
TAMARIN OCEAN PRO DIVING – Diving School in Tamarin – Mauritius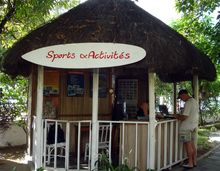 Tamarin Ocean Pro Diving is also a small independent diving school located in the resort Tamarin in Mauritius which we would like to recommend you. Since the opening in June 2008 the diving school is situated in the water sport centre of the Tamarin Hotel opposite of the beach of Tamarin. The team of Ocean Pro Diving consist of four well experienced divers and among them is also one dive instructor. All of the team members explore the diving spots of Mauritius since many years so they will accompany you confidently on your exploration of the beautiful spots of the Indian Ocean and also train you to a proofed diver under PADI criterion.
The atmosphere of the Ocean Pro Diving is very friendly and delightful which let you feel that you are in good hands and helps you enjoy the diving excursion thoroughly.
The Tamarin Ocean Pro Diving centre offers a wide range of diving possibilities like night dives, shark dives as well as full day dive excursions to all regions of Mauritius. If you still have a wish which is not offered by the diving centre the friendly team will make it become true.
Ocean Pro Diving provides even special offer for students and families.
The equipment of the diving school is up to the quality and safety standards. Furthermore the diving school is proofed by the Mauritian Scuba Diving Association.
Courses:
PADI Open Water (Swimming pool, 4 sea dives)
PADI Advenced Open Water (5 sea dives)
Emergency First Response (international qualification)
PADI Rescue Diver (required: Emergency First Response)
PADI Divemaster (required: PADI Rescue Diver)
(You will need a medical certificate to proof your mental and physical ability for diving)
Dives: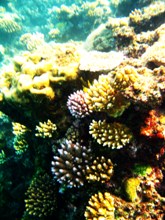 Sea dive
Booking of 5, 10, 15 or 20 dives  (5%, 10%, 15% oder 20% Rabatt)
Discover dive
Refresh dive
Night Dive
Safari-diving (1 adventure dive + barbeque on Coconut Island)
Diving trip to the north, east or south (2 dives, transfer)
Special offers for students (student card required) and families (2 person min.) are available.
Languages:
All courses are available in English, French and German.
Opening hours:
Tamarin Ocean Pro Diving is open from Monday to Saturday from 9.00 am to 5.00 pm. On Sunday and public holydays dives are available on request.
The first dive starts usually at 9.30 am. In case of the booking of two dives they will be arranged in quick succession with a small break on the boot in between.
The night dive starts at 7.30 on request.
Direction:
Tamarin is located on the main road between Port Louis and Black River. If you pass Tamarin you will see a junction in a corner just behind a bridge which crosses the Black River. Here you will find a sign to the Tamarin Hotel. Follow the small road and you will end up at Tamarin Bay where the diving school is located.
Contact:
Tamarin Ocean Pro Diving
Hotel Tamarin, Tamarin Bay, Tamarin – Mauritius
Phone: (+ 230) 728 20 27 or (+ 230) 786 95 54
E-Mail:  [email protected]
Find further information on http://www.tamarinoceanpro.com
Divesafaris: