Canyoning Vertical World
Who does not want to look at the Tamarind Falls from a distance, but also wants to experience them first hand, has to go canyoning. An adrenaline rush is guaranteed and an experience, which every adventurer should have tried once.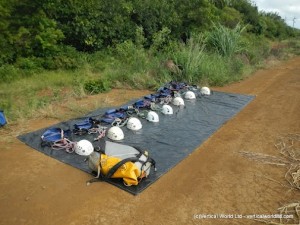 At 9 o'clock we start at the Tamarin Falls, where a very friendly team greets us. Once you get a professional and certified equipment and the instructor Krish has explained everything we start.
Even if you are just doing the program for the beginners it definitely does not start to timid. First you go down a small waterfall of 15 meters, where you already have to overcome yourself. It is normal if you fear, but Krish gives you safety and encourages you. Also a trained lifesaver is always going first to secure you in case of an emergency and so nothing can happen.
Arriving at the waterfall you should first of all go into the small pool of water to avoide any cold shock of the water that is waiting for you below. One after the other you go down of course being secured enough. To get down you have to make a small jump and then you can lower down on the rope. Once you have made that leap, and thus also the greatest conquest, you can not wait to abseil again to feel the next adrenaline rush.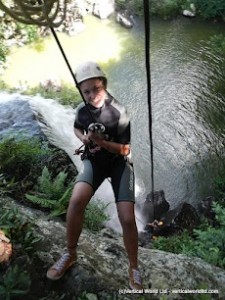 While abseiling you will get a small shower from the waterfall. When you reach the bottom you have to swim to the other end of the pool and wait for the others. Then you go through branches, over rockes and bumpy small trails to the next abseiling point. In between the guide will explain you something worth knowing about nature.
The next time abseiling as a beginner you have to overcome yourself again, but you have a lot of fun and a feeling that everyone should have had once in a lifetime. After gaining full confidence in the equipment you can enjoy the beautiful view, mixed with the adrenaline rush.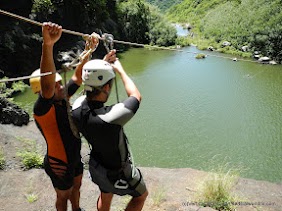 At this point you can take a short break with cerial bars and water before roaring down the zipline. This is really the highlight of the trip. The first few meters you have to run down the rocks, of course well secured, until you no longer have the ground underneath your feet and then you can enjoy the few seconds until you land safely in the water and slow down. This is pure adrenaline, which gives you a pleasant tingle in the stomach and makes you feel like doing it again. Once at the bottom you have to swim back to shore. Then you can go for a second and even third time whizzing down, the only way up is through the tropical shrubs and rocky paths, but really worth it.
For the hardcore people, there's even a place where you can jump 7 feet in the underlying pool of water.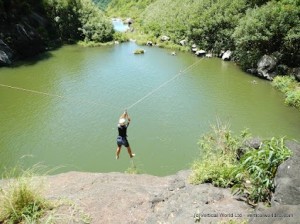 After everyone is through with jumping and the zipline you head back through steep little pathes to the starting point.
Here you can exchange your experience again with everyone and relax a little over a Coke before leaving back home.
Vertical World offers full and ½ day trips for canyoning, hiking, group building and many more.
Contact:
Tel: (+230) 697 5430
E-mail: [email protected]