Cities
FLIC EN FLAC
Situated in the West of Mauritius, Flic en Flac is a popular destination among tourists. But also locals enjoy the 8 km long beach at weekends while having their picnics in the shadow of the trees.
Directly along the beach different restaurants settled down to offer all kinds of food at different levels of prices.
Delicious italian food is served in "Chez Pépé". This popular restaurant can be found in the Coastal Road. Business hours: 11:30 am – 03:30 pm; 06:00 pm – 10:00 pm; Tel: 4539383
"Chez Michou" is also at the Coastal Road. Here you can choose between yammy ice cream and tasty pastries. All sorts of coffee and milkshakes can be enjoyed on the terrace. From 07:30 – 11:00 am you can even have breakfast here. Business hours: Tues-Thurs: 08 am – 11 pm; Fri+Sat: until 12 pm; Sun 08 am – 06 pm; closed on mondays; Tel: 7960021
In case you would like to spend your holiday in Flic en Flac, choosing an apartment is recommended. Often times these apartment houses are maintained to a high standard and tastefully decorated. If you wish to experience more luxury you should go further down the South to Wolmar. Flic en Flac and Wolmar "grew together" so you can hardly speak about two different places. Several luxury hotels settled here and promise extravagant vacation.
Shopping:
There is a SPAR-supermarket in Flic en Flac at the main road. Business hours: mo-sat: 08:00 am – 08:00 pm; sunday and public holidays: 08:00 am – 01:00 pm;
Alongside this road several souvenir shops sell textiles, post cards, etc.
Bank:
Following the main road towards the gas station, you pass a sharp bend to the right. Directly in this bend there is a MCB-bank on the ri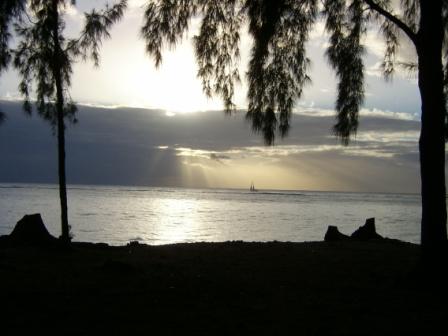 ght side.
Bank hours: mo-thurs: 09:00 am – 03:15 pm; frid: 09:00 am – 05:00 pm; exchange of money: mo-thurs: 09:00 am – 04:00 pm; frid: 09:00 am – 05:00 pm; sat: 09:00 am – 04:00 pm;
Tourist Information:
Further down south the main road after the steak house on the left side some steps lead to a tourist information. Here you can book diving courses, island tours, etc.
Recommended Restaurant:
Dining in wonderful atmosphere is possible at Domaine Anna.
PORT LOUIS
Port Louis is Mauritius' capital and at the same time the centre of economics.
With approximately 200,000 inhabitants Port Louis is the island's biggest city. A lot of Mauritians from the suburbs and surrounding villages come daily to work in the capital. That explains the heavy traffic. Port Louis is not a classical "beautiful" city with a lot of sights but it's still worth a visit to get to know Mauritian culture and the daily life of many Mauris.
A special attraction in Port Louis is the race-course Mauritius Turf Club. The second largest race-course worldwide attracts numerous locals as well as tourists. Races take place from May until December, Saturdays around 12h. While some drink their sparkling wine in elegant suits and dresses at the higher stands (entrance fees: men: 175 Rs, women: 100 Rs), most visitors look for places in the lower stands or the inner field of the race-course. As soon as you can see the jockeys the atmosphere gets tense and after the starting signal people are jumping around, cheering, shouting dependent on the success of their horse. If you get hungry or thirsty during the races you'll find all sorts of snacks in the inner field of the race-course. It almost seems like a fair.
Most of Port Louis' visitors are attracted by the Waterfront where a huge elegant shopping centre (Caudan Waterfront) was built directly at the water. Fancy designer boutiques as well as hip surfer-shops sell their goods in a very western environment. Various cafés and restaurants offering a view on the harbour are waiting for you.
By the way: A drawing of the waterfront is printed on the 50-Rupies-banknotes.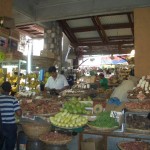 Walking some meters towards the centre you can experience the total contrast, because on the Central Market a lot of activities are going on. In a heritage-protected hall many different vegetables and fruits are sold. Next to it there are more halls with meat and poultry. Just take care of your bags because pickpockets like this place too.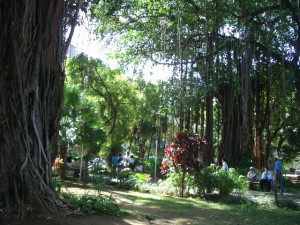 Going further into the city centre, in the direction of Chinatown, you are surrounded by contrasts. On the one side huge buildings like the air Mauritius Center, on the other side small semi-derelict houses. Still Port Louis has its own charm. So you will always find someone who explains the way patiently (often times better than trying to orient oneself with confusing or wrong maps) or helps you out of a small parking lot. The Mauritian readiness to help is really impressive.
If you look for a place to take a break and relax, you should head towards the Company Garden (near the Government House in the west). Here you will find a little green oasis in the midst of the noisy, busy traffic.
You should try one of the numerous snacks that are offered almost everywhere in Mauritius and also near the Company Garden. Don't miss to try delicious Samosas, little meat or vegetable stuffed pastry in the form of a triangle.
Parking: There is a car park next to the Waterfront. Unfortunately the signs are very small. If you come from the South on the motorway you face a roundabout. You can choose between City Centre, the North, etc. But you need to go left in order to find the car park.
The first two hours are 25 Rs, every additional hour is 25 Rs.
Bus: You can reach Port Louis from almost every place on the island. The bus terminal is quite central, so the sights are within walking distance.
QUATRE BORNES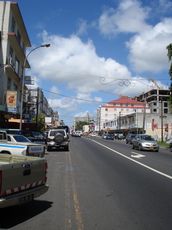 Quatre Bornes with a population of 76,000 is one of the largest towns in Mauritius. Located is the city of Mauritius in the inland about 15 km southwest of the capital Port Louis and 30 km from the airport. There is a centre of cities consisting of Rose Hill, Beau-Bassin, Quatre Bornes, Vacoas and Curepipe. Even if these five cities flow into each other they are all to consider as individual cities with their own flair and history.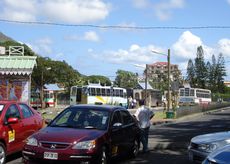 Especially nice is the situation of Quatre Bornes. Quatre Bornes is surrounded by green mountains and thus prepares beautiful views. This is probably one reason why it became one of the most affluent residential areas of the Mauritian.
Quatre Bornes translated means the four borders. However Quatre Bornes is rather called the city of flowers because of the many plants and parks.
The city is so situated that you more or less do not come around then to pass through during your stay in Mauritius. And anyway if you are ever in the area I will provide you a few tips and ideas of what can be done in the Mauritian town Quatre Bornes.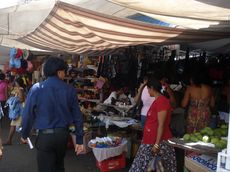 The main street of Quatre Bornes is full of countless shopping opportunities. It ranks a boutique next to the other where you can find everything like clothes, shoes, bags, cosmetics, dvds, banks, pharmacies, books and much more.
In addition there is the famous market in Quatre Bornes where on Wednesday and Saturday a very nice fruit and vegetable market is set up. Thursday and Sunday you can discover a huge clothing market, where you will find very cheap clothes and especially fabrics, jewellery and accessories but also a lot of junk is available there. On the remaining days you get a smaller market where articles of all kinds are sold.
The marketplace is located just opposite the bus station and can't be missed.
About five minutes walk away is the shopping centre "Orchard Center". You will also find many clothes like Surfer wear, Indian clothes, evening fashion, etc.
Also located in the Orchard Center in Quatre Bornes are several electrical shops, a Spar supermarket and Diane, a beautiful accessory shop which provides mainly handmade products.
In addition there is on the third floor of the shopping center the TwentyOne 22, a club which is open every Friday and Saturday night. The DJ sets mostly electronic music like house, minimal and trance. What this club makes different to many others in Mauritius is that here mainly local people of Mauritius and fewer tourists are found. It offers a good opportunity to get an idea how the local people go celebrate at the weekend.
If you want to go out for dinner in Quatre Bornes there are countless possibilities. On the main road a number of different restaurants, fast food shops and snack bars are offered.
For more information on restaurants in Quatre Bornes please click here.
This is a tip for a very delicious snack in between: If you walk from the main bus station to the direction to the Orchard Centre and pass it you will find after 10 minutes on your right hand side the "La Marmite Divine". It is a small shop which provides only vegetarian cuisine. Here you will find a variety of Mauritian snacks and sweets which are excellently prepared. You will recognize the "La Marmite Divine" on a large sign with red words "100% Végétarienne cuisine."
Direction:
By bus: you can reach Quatre Bornes easily by bus. There are direct buses from Flic en Flac, Tamarin, Port Louis and the surrounding towns.
In the rush-hour I would advise you to avoid the traversing of Quatre Bornes by car and by bus. Otherwise you will wait a long time in a traffic jam.
ROSE HILL
The commercial town Rose Hill is the third largest town in Mauritius. The Plaza is more or less the centre of the busy city Rose Hill. Most of the shops are around this area as well as the town-hall, the library and a theatre.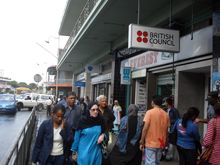 Rose Hill became well-known in the end of the 18th century when the disease Malaria was spread over the capital Port Louis. Many people moved to the areas of the Plaines Wilhems where among others Rose Hill and Beau Bassin are located. The cooler climate of this area keeps the mosquitoes away.
Up to today Rose Hill and Beau Bassin developed to one big city complex. Today the two cites merge into each other and mostly they are mentioned together.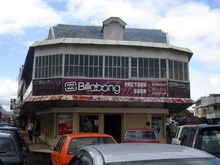 Rose Hill is especially known for its good shopping facilities. Some tips for shopping in Rose Hill are the Billabong outlet store which is located nearby the main bus stop. Here you can find all the old collections of Billabong for sometimes really cheep prices.
The most famous shopping centres in Rose Hill are the Atrium Shopping Centre in the Vandermeersch Street, the Arcade Sunassee in the Royal Road and the Les Galeries Evershine in the commercial complex.
In the mentioned shopping centres you can find every imaginable product like different types of clothes, Dvd's, jewels, decoration, souvenirs and a lot more.
Good to know is that all the shops in Rose Hill are only open half days on Thursday.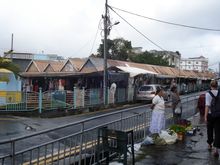 Furthermore there is a wonderful fruit and vegetable as well as a clothing market in Rose Hill. It is also located close to the main bus stop.
If you want to let yourself tailoring a nice suit in Mauritius, which is very cheap on the island, Rose Hill is the right place. You can buy very cheap and high quality textile either on the market or in a textile shop like the Tulsidas & Tulsidas, a specialist for textile, cloth and Indian clothes, which is located on the Royal Road. They can also recommend you a good tailor.
Also there is a very good music shop "Harbour Musik Shop" located on the Royal Road which offers a wide variety of different types of music.
You shouldn't miss to spend one day of your holiday in Mauritius in the interesting and original town Rose Hill and you will dive into the typical city live of Mauritius.
Direction:
By car: From direction Port Louis you will pass a junction on the main road between Port Louis and Flic en Flac where you have to turn left. Rose Hill is already signed out on the junction. If you follow this street you will reach a t-junction where you have to turn right. This way will lead you directly to the city centre of Rose Hill.
From direction Quatre Bornes you have to follow the highway in direction Port Louis. Some minutes after Quatre Bornes you will find a sign to Rose Hill/ Beau Bassin.
By bus: You can reach Rose Hill easily by bus. There are different busses running from Port Louis and Quatre Bornes.
BEAU BASSIN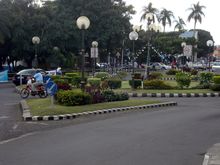 Beau Bassin and Rose Hill are one city complex. The two commercial towns merge into each other. As Rose Hill is more a shopping paradise I would say that Beau Bassin is more appropriated for just walking around and explore the city which has some beautiful places. In Beau Bassin as well as in Rose Hill you can experience perfectly the typical city live of Mauritius.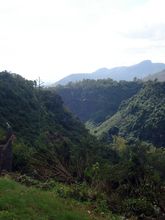 The name Beau Bassin can be translated with the beautiful valley or the beautiful holiness. After you visited the gorgeous places of Beau Bassin you will know where the name comes from.
You should definitely visit the View Point Cascadelle. A perfect view all over the valley of this area is given which even reaches up to the coast.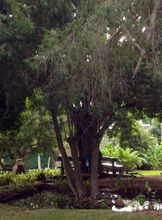 Another nice place in Beau Bassin which should not be missed is the Balfour Garden which is a beautiful botanical Garden.
Beau Bassin is very well known for its pleasant climate. A fresh chilly wind which is coming from the direction of Moka is mixing up with the warm and sunny climate from the west coast. The nice temperatures are one reason for the many flours and fruits which are available in the area of Beau Bassin.
Direction:
By car:You have to take the same route to Beau Bassin than to Rose Hill. From direction Port Louis you will pass a junction on the main road between Port Louis and Flic en Flac where you have to turn left. Rose Hill/ Beau Bassin is already signed out on the junction. If you follow this street you will reach a t-junction where you have to turn left. This way will lead you directly to the city centre of Beau Bassin.
From direction Quatre Bornes you have to follow the highway in direction Port Louis. Some minutes after Quatre Bornes you will find a sign to Rose Hill/ Beau Bassin.
By bus: You can reach Beau Bassin easily by bus. There are different busses running from Port Louis and Quatre Bornes.
Curepipe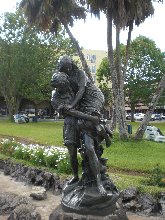 Curepipe as the highest city of Mauritius has more to offer than the famous volcanic crater Trou aux Cerfs. It can be very refreshing to spend some time in the highland after some days at the beach, but don't forget to bring an umbrella as it rains qui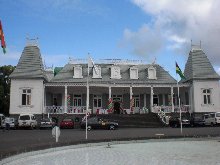 te often. Because of the mild climate many Mauritians who work in Port Louis choose to live in Curepipe. The historic centre is between the townhall, the central market and the church St. Thérès. Between the North Bus Station and the South Bus Station the Townhall Gardens are situated. This could be concerned as a nice but not very special park if there was not the famous statue of Paul and Virginie. This love drama which takes place in Mauritius can be compared to Romeo and Juliet in terms of how famous it is in France and Mauritius. As there are so many statues and stories about the couple some people seem to think that the drama has happened in reality.
From the park you can see on one side the pricewinning building of the central market. On the other side the townhall L'Hôtel de Ville w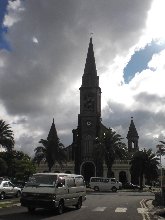 hich has been built in colonial-creol style in 1902. The story of its construction is a very special one. Curepipe's citizen conceived the desire to get a new house for festivals. As the major really liked the house "La Malmaison de Moka" it was di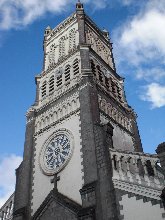 smantled, brought to Curepipe and there stone by stone built up anew. Some metres from the townhall, in front of the Carnegie library you can see the statue of a very famous Mauritian: Sir Gaetan Duval. His face might be familiar to you as it bears the 1000 – Rupees note. On the opposite side of the road the splendid church Ste. Thérès d'Avila can be seen. Well worth seeing is aswell the catholic basilica Ste. Hélène which can be found at the northern end of the Royal Road. In this church celtic, romanian and oriental elements are combined.
Around Royal Roal there are many little shops and it can be really fun to have a look around because those are the shops for the locals. Instead of a plush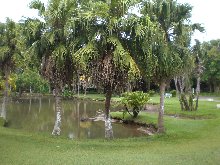 dodo you will able to purchase for example special indian fabrics. For shopping I really like the Curimjee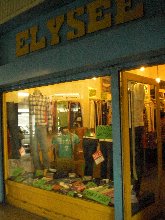 Arcades which are at the corner Ste. Winston Churchill Street/Royal Road. Here you can find many little shops which sell little furnishings, Chinese specialities, and clothes. In the second floor thereis a nice little café. For bargain hunters I have a very special tip: In Elysee in the ground floor there is one of those hard to find factory outlets.
Round about 5 minutes drive from the centre is the Botanical Garden. It cannot be compared to the Botanical Garden in Pamplemousses because it is more like a municipal park. If you have a closer look you might find some banana trees, paper trees and hidden little ponds and when it is raining you can ride the car through the park.
GRAND BAIE
Grand Baie is always busy and also the nightlife is worth a try.
Here, in the North of the Island, a lot of shops and boutiques gathered to build a perfect shopping paradise.
Especially at the Sunset Boulevard you will find shops of Hémisphère Sud, Lacoste, Camper, etc. but also stylish surfershops offering everything that guarantees holiday feeling (Rip Curl, Quiksilver, etc.).
Groceries but also everything else can be found at Super-U. This supermarket lies on your right hand if you enter Grand Baie from th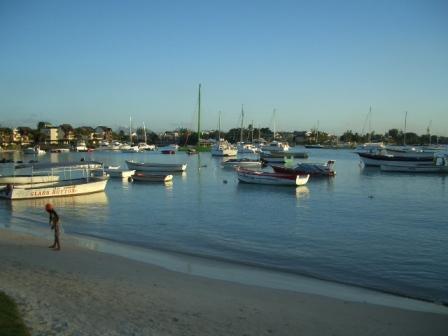 e inner part of the island. There are also several shops and fast food restaurants around the supermarket.
Of course it is the bay, that gives Grand Baie its name and its fame. Just take a coffee at the Sunset Boulevard and enjoy the view at the boats and catamarans that are anchored. If you prefer sports you can choose between numerous watersportactivities. Diving, boattrips, Underwater-Walk, sailing, deep sea fishing, submarine,… you are spoilt for choice.
Many activities are offered by hotels but usually they are available for everyone.
MAHEBOURG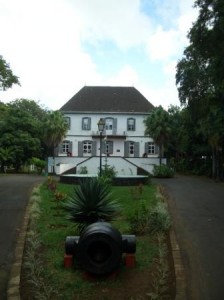 In the South-East, near the airport, you'll find this dreamy town.
The National History Museum provides a lot of information about Mauritius' history. It is situated right at the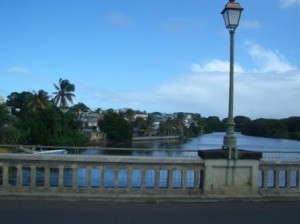 beginning of the town on the left side. The colonial building accommodates different maps, graphical material and finds. opening hours: mo-sat: 09:00 am – 04:00 pm; sun + public holidays: 09:00 am – 12:00; closed on tuesdays.
Following the main road you'll pass a catholic church on the right side. "Notre Dame des Anges" is usually open for visitors and you can have a look at colorful glass panes.
If you go further down the main road and take a turn on the right you'll head towards the market. People are selling vegetables, fruits, garments, snacks, etc. The setting with a nice view on the indian ocean is beautiful as well. Better don't come on thursday afternoons because then all the shops and stands are closed.
A nice shot is the Cavendish Bridge at the city limit of Mahebourg.
TROU AUX BICHES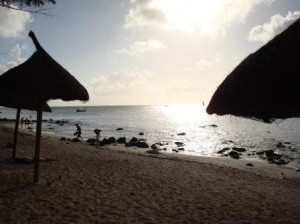 Trou aux Biches is situated south of Mon Choisy. Just enjoy the nature by talking long walk at the beach. Of course you can also go snorkelling or swimming. Despite of a few small hotels and apartments, Trou aux Biches remained a relaxed place. In the centre you'll find some restaurants and shops. Furthermore you can do all kinds of sports like golf, tennis, deap sea fishing, etc.
TAMARIN
Tamarin is located at the Westcoast of the island, south of Flic en Flac. While passing this town big basins for salt production catch your eye. The salt production of Tamarin covers the demand of the whole island. This place is ideal because rainfall is rare and seawater can be led into shallow basins to evaporate. Since the French colonial era salt is obtained this way.
The bay of Tamarin (Baie du Tamarin) is especially famous among surfers. Here the waves are not slowed down by a reef. It is said that June/July are the best months for surfing but you can't really rely on the Indian Ocean. Sometimes you have calm periods for weeks.
Other activities are offered at TAMARINA. This new complex combines an 18-hole golf course with luxurious bungalows.
Probably you will see the "Montage du Rempart". Even though its height is just 545m, it is called the "Matterhorn of the South" due to its silhouette. The vertical rock face can just be done by experienced climbers.
At the foot of the mountain you'll find several beautiful villas and apartments.