Nightlife
Julie's Club
A lively rhythm bar

, Perybere

Who wants to spend his evening in a cozy bar is the right place! Everyone is warmly welcomed and cared for there. Your hosts will be Fabienne (French) and Jean Loup (Mauritian) and they will welcome you in a true Mauritian style. Julies is open from 16:00 pm till late every day, sometimes even later if you are allowed out that late.
Every visitor always assured a warm welcome when visiting Julies Bar in Pereybere.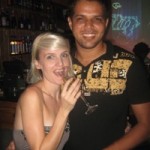 Sports fans are invited to watsh football, rugby, Formula 1, to follow cricket and golf on 2 large screens in both French & English.
A popular night of Karaoke is a regular feature, led by an experienced and accomplished host and guaranteed to get Pereybere rocking or rolling.
We have regular events featuring local Jazz, Pop, Rock and Rhythm artists, including Sega nights. If you are lucky enough we also host surprised and improvised concert nights. Once a week we have a regular DJ playing anything from 80's to Electro.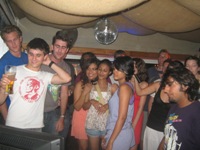 If you had to summarize a night in Julies in a sentence, you could say a night not to be forgotten or if you stayed till late, a night to be remembered. Whichever you will want to come back for more…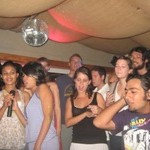 There is  a broad selection of clientele from expats to locals both French and English and also South Africans and of course  a lot of tourists, all are welcome and they make all welcome.
In Julie's Club has a plentiful selection of tasty cocktails, but also from beer to rum is all available.
Some Cocktails and shot suggestions:
TSUNAMI MOJITO COCKTAIL, you should also try Fabienne's favourite a Caiperinia.

SHOTS; the Sambucca, the shot that will Rape your tongue! At Juiles Club we light this up but it does not stop there, we have a very special technique when serving it
If you get hungry:
Crispy Chicken Rs 130

Crispy Calamary Rs 150

Burger & Chips Rs 130

Hot Dog and Chips Rs 130

Nachos Rs 100

The Chefs Basket Rs 300
(Samousas, Crispy Chicken, Calamary & Wedges)
Kibbles Basket Rs 175
(Chicken, Shrimps & Mushrooms)
Chicken Kibbles Rs 130
(Croquettes Poulet)
Although the prices are very moderate, there is often an additional Happy Hour!
There is also the possibility of private parties to celebrate. Just ask!
Who wants to spend an unforgettable evening in a typical Mauritian Bar should go there.
Contact details:
Julie's Club, Route Royal, Perybere
Tel: (00 230) 77 88 483
Mail: [email protected]
Facebook: JULIEN CLUB
Grand Baie
Grand Baie is the undisputed center of the Mauritian nightlife! Here you will find most of the clubs and bars!
Banana Beach Club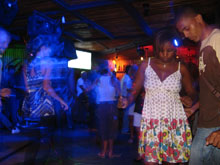 Grand Baie- this is were the party is happening! In the center of the touristic city you can find a legend of Mauritian nightlife: the Banana Beach Club! Already 26 years ago the notorios bar was opened. Since that time Grand Baie´s nightlife district can not be imagined without the bar!
The well-patronized bar was even the backdrop for several movies and for the TV ad of the famous Phoenix beer. And also celebrities which wanted to discover Mauritian nightlife have been guests in Banana Beach Club!
Banana Beach Club is popular among tourists and locals! So there is always a varied audience in the trendy open-air bar.
For those who love concerts, Banana Beach Club is the right place to be! Usually every friday and saturday there are bands playing in the bar. To reggae, jazz, pop and rock the party people are shaking their legs! During the week Dj Roy is on the turntables between 10 pm and 2 am.
No matter, if you prefer a cold beer, a glas of wine or a softdrink, Banana Beach Club caters for all tastes. There is also a huge variety of cocktails of all kinds. Between 5 and 9 pm there is Happy Hour on beer and selected drinks.
Those who are interested in sports can watch different sport events on two tvs. When there are important events, there will be a big screen installed in the bar, where you can watch football, rugby and other sports.
Big fans of Banana Beach Club can purchase memorabilia like caps, shot glasses t-shirts and sweatshirts with the logo of the bar.
The Banana Beach Club is opened on Mondays at 12 o´clock and the rest of the days at 10 am. Depending on the amount of party people the bar is closed between 2 am and 3 am. Even if a cyclon is blowing over the island, the bar might be opened! Once a cylon of stage 2 was blustering in Mauritius, but the Banana Beach Club was still openend. "There was a cyclon outside- and inside!" the manager of "Banana" commented on this memorable night.
The entrance for the bar is free! When there are live bands on fridays and saturdays, the admission is 100 Rupees, but you will get a "drink ticket" in the same amount which can be redeemed at the bar. On fridays its "Ladies Night", so for women the entrance is free.
Contact:
Banana Beach Club
Royal Road
Grand Baie
Tel. +230 263 0326
[email protected]
http://www.bananabeachclub.com