Water- Leisure- Park Mauritius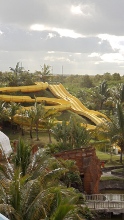 The water- paradise in the east of Mauritius, close to Belle Mare Public Beach, provides sustained enjoyment, cross- generational. When entering through the enormous gateway, one gets sight of the "Pirates Plaza" with its old shipwreck, which is surrounden by a river suitable for swimming. Through several cliffs and waterfalls, one will get the impression that the ship is actually sinking.
Walking along the palm and flower planted paths, one will reach the different pool- areas with their incredible slides, making this park a true attraction.
If you love to challenge fear, then "Black Hole" should be your slide of choice. Shielded from any sunbeams whatsoever begins a quick journey into the unkown. You can also go to the gigantic "Open- Air" slides, with 125 meters of lenght, leading into a small pool, as well as to the "Multi- Lanes", consisting of four lanes, with about 80 meters of lenght. All of these slides garantee for a fun ride and a good time.
Then there is the wave pool. With seven different types of swell you can try yourself in riding them with or without a floating tire.
If you like things a little more eased and and calmingly slow, you should look up the "Lazy River". Sitting in a big, comfortable tire a unhurried trip on a river will lead you around the park area, through floridity and even caves with thunder and steam. That way a visitor who is looking for peace and composure is able to enjoy the beauty of this water park.
In case the relaxing river seemed too "Lazy", maybe you should check out the "Crazy River" 🙂
Besides the swimming pool for "grown- ups" which has two jacuzzis and one ramp, there also is a kids- pool. Frog slides, mushroom waterfalls and a huge dragon in the pool make it ever so exiting and fun.
After you spend some time in the cooling wet and you start to feel hungry, the main restaurant "La Table Des Pirates" will provide you with some tasty dishes. But you can also find burgers, sandwiches, cold soft drinks, a variety of cocktails and even wine from Italy or France at different snack bars all across the water scenery. Ice cream and other sweets will be available at several "Candy Spots". Please note that the food and drinking services are rather important since bringing ones own supply is not tolerated.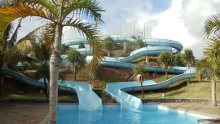 For souvenirs, children's toys, beach fashion as well as water park t- shirts "La Malle aux Tresors Logo Shop" will be right at the Exit.
The Waterpark Mauritius will be open daily from 10:00 am until 5:30 pm.
Entry for adults will be 300 Rs (+ vat 15%), for children it will be 160 Rs (+ vat) and seniors (+ 60) will have to pay 160 Rs (+vat).