Blue Safari Submarine Underwater Adventure in Mauritius
One of the most exciting adventures in Mauritius is to explore underwater aquatic life in a fully functional submarine. Yes folks – a real life submarine! You've never experienced being 30m underwater without getting wet? Maybe it's time now to go on a submarine in Mauritius.

Designated meeting point is at Blue Safari Submarine located in Trou aux Biches in the North of Mauritius. After the welcoming formalities and brief introduction, would-be-underwater-adventurers will be asked to hop on a boat going to the "submarine parking" just outside the lagoon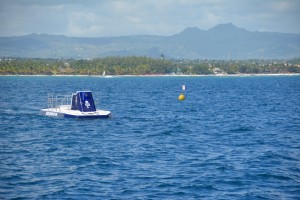 (Submarine parking is a boat ride away since the submarines couldn't come any closer to shore given their huge sizes). The huge boat welcomes its passengers and provides drinks and a breathtaking view.

The submarines, though considered huge, are still smaller compared to naval submarines and accommodate 10 persons – which is actually perfect for an underwater adventure. You will sit next to families, newlyweds and tourists who want to see the blue side of Mauritius.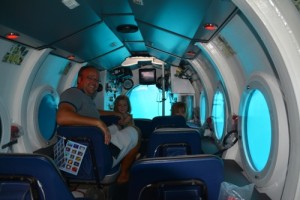 Navigating and operating the submarine can be done by a single, professional, and highly-skilled driver (who has vast knowledge of the underwater things that we will encounter). He takes place in front whereas all passengers are asked to take seat behind him next to the windows.

After some short instructions the submarine begins to sink. One of the dives goes to a wrack in 30m depth. Moraines are living there as well as many colourful fishes.

Every dive takes about 30min and goes 30 meters deep. Be sure to take notice on how the colours fascinatingly change with depth. On top of this, don't forget to take photos of colourful and huge fishes that can be found on deep waters.
The submarine underwater adventure in Mauritius is perfect for anyone who does not dive but wishes to see underwater marvels like moraines, exotic fishes, and colourful coral reefs. Kids pay 2900rs, adults 4700rs.