Ste Thérèse- church in Curepipe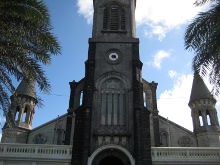 Over the Royal Road, th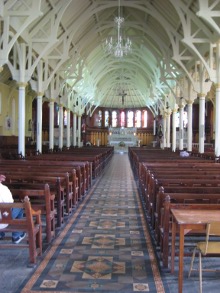 e pulsating main street of the city Curepipe, you get to the catholic church Ste  Thérèse. In the year 1872 the architect Mr. Rampan and Sir Virgile Naz built the
place of worship on a simple square. Thus the might gothic building, with two spires at each side and with an arched windowin the middle, seems to be the central place of the nice city on the top of a hill. On the opposite of Ste Thérèse you will find the town hall, a building from colonial times which was build in the year 1890.
As soon as you enter the church you will immediatly see the lovley coloured windows. On the contrary the interior furnishing, which is very simple and quiet: white buttress and dark brown church pew decorate the area of Ste  Thérèse.
Service will be every Saturday at 16:00 and 17:00 h. On Sundays at 7:30, 9:00 and at 10:30h.