Art
Seebaluck Art Gallery & Galerie Raphael
In Pointe aux Cannoniers you can find the biggest art gallery of Mauritius: Seebaluck Art Gallery. On two stories a wide choice of paintings is awaiting you.
The Gallery caters for all tastes: one can find different styles like impressionism, expressionism, cubism, realism or abstract painting. Locals, as well as artists from India, Indonesia and Réunion are exhibiting their art works in the gallery. A lot of the paintings were made by Chayetan Seebaluck, who is the owner and founder of the gallery and is considered as one of the best Mauritian artists.
He w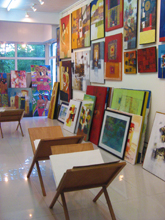 as born in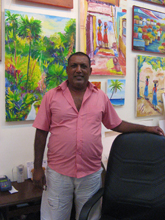 1958 and has studied music and fine arts in India. As he learned all the different techniques at university, his art works are incredibly diverse. No matter if you look at one of his oil, acryl or water colour paintings, all his works have something in common: they are decorative, colorful and at the same time full of hapiness. In his paintings he is searching for beauty and he loves to make new experiments. He works mostly in a very impressionist style, but these days he is doing also a lot of modern and abstract art works. So his passion is to paint creative landscapes in the style of abstract painting. He had several solo and group exhibitions in Mauritius, South Africa, France, and India. Already above 2000 of his paintings are mostly in Europe and other countries of the world.
In Seebaluck Art Gallery mostly originals are sold, but you can find also some art prints. The prices start at 1600 Rs and reach up to 150 000 Rs.
Many of the paintings depict Mauritian motifs, like landscapes, village sceneries or markets. If yo want to take back home a special souvenir you should have a look at the gallery´s beautiful paitings. An artwork of a Mauritian artist or a painting which illustrates the tropical island will remind you of your pleasant stay in Mauritius.
Since 15 years Chayetan Seebaluck is also the owner of Galerie Raphael, which is specialised on ship models. All in all you have the choice between 30 high qualitiy ship models. They are exact replicas of historical ships, which were built by 15 highly specialised workers according to museum plans. The price for one ship model is between 1000 and 15 000 rupees. As Mauritius is famous for it´s ship models, this would be a perfect souvenir and a great decoration for every home.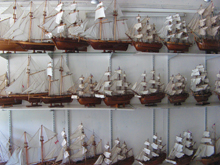 Opening hours of both galleries:
Monday to Saturday: 9.30 am – 7 pm
Sunday: closed
Contact:
Seebaluck Art Gallery & Galerie Raphael
Royal Road
Pointe aux Cannoniers
Tel/Fax: 263 6470
Email: [email protected]
How to get there:
Coming from Grand Baie, follow the Royal Road, till you are in Pointe aux Cannoniers. There you find both galleries close to Clinique du Nord on the left side of the road.
Partage Gallery
Partage – this is the motto of the same-named gallery in Flic en Flac. If you translate the french word it means "sharing". This is what is happening in the gallery: a real sharing. 'Partage' of culture, ideas, knowledge, skills and personal experiences.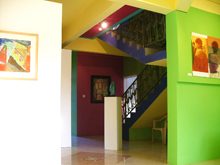 In the gallery you can see paintings of different styles, installations, sculptures and photographies of more than 40 artists. The rooms of the house are divided according to different themes. Two rooms are showing contemporary art. In another room you can find landscape paintings and commercial art. In a fourth room copies of the old masters, like Rembrandt are exhibited. A fith room is dedicated to the "Dodo"- the famous endemic and extinct bird. Most of the artworks which are exhibited in Partage Gallery can not be purchased. If you like one of the artworks, the artist will be contacted and you can have an appointment to have a look at his works.

The gallery was founded in 2008 by Krishna Luchoomun. The artist was born in 1962 at Vacoas, Mauritius. He obtained a MA in Fine Arts from USSR Academy of Fine Arts. At present he is lecturer at the Mahatma Gandhi Institute, painter, installation and video artist and film maker. He held severel solo exhibitions in Mauritius, Russia, Netherlands and Réunion. He has participated in many group exhibitions in Mauritius and abroad namely UK, Russia, Germany, Seychelles, Finland, France, South Africa and many more. With his wife Sultana Haukim the artist lives in Partage Gallery. Overall ten of his amazing artworks are exhibited there. Also beautiful paintings of Krishna´s wife can be seen at the gallery.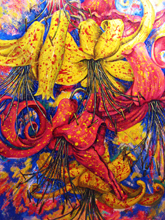 Krishna Luchoomun is not only the founder, resident and owner of Partage Gallery, but also president of "Partage"- a Mauritian association of artists, which is integrated in the network of Triangle Arts Trust, an international arts organization that brings together artists from different countries to expand the boundaries of their practice. Partage follows the triangle model of workshops, residencies and exibitions.Through the workshops exchange and dialogue between artistic communities internationally and within the region is promoted. The workshop period is usually 2 weeks where an equal number of local and international artists live and work together. Towards the end of the workshop an open-day is usually organized to give possibility to the public see works in progress and discuss with artists. Partage's residency programme aims to support artists in the development of their artistic practice and ideas, offering them an opportunity to live and work in Mauritius in the gallery. The workshop and residencies culminate in an exhibition of works produced during the interaction. Today it reflects the pioneering spirit of some highly dynamic local artists and characterizes the upbeat and changing face of the local art scene.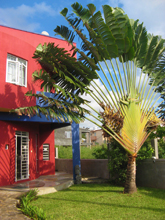 Are you interested in visiting Partage Gallery? Just call the gallery and they will open on appointment.
Contact:
Partage Gallery
419 Kestrel Street, Morcellement Safeland
Flic en Flac
Tel: +230 751 9045
www.artshost.org/partage
[email protected]
How to get there: Coming from Port Louis, drive to the centre of Flic en Flac. Pass by Spar supermarket and follow the street. After the first crossroad go straight on. On your left you can find Partage Gallery. The colourful house can not be missed!
Galerie du Moulin Cassé
Galerie du Moulin Cassé is an ancient sugar mill located in Péreybère. Walking through an elegant tropical garden, you get to the 130 years old sugar mill. In it´s vault you can visit the gallery. Galerie du Moulin Cassé offers two permanent exibitions: Diane Henry (Nature photographer) and Malcom de Chazal (1902-1982).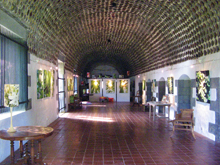 Diane Henry is a nature photographer. Her collections include macrophotographies of flowers, shells, palms, small animals and fruits. She took the pictures in Mauritius and also while travelling to Southafrica, France and Asia.
Her Artworks are also exhibited in the museum L´Aventure du Sucre as well as in the hotels Le Preskil and Le Shandrani. Her Exibitions are composed mainly of artworks, but also cushions and lamps with her motifs can be seen.
The beautyful artworks, cushions and lamps can be purchased at the gallery. The artworks start at a price of 800 Rs.
Opening hours: every Friday from 10am to 6pm. On other days, please call for appointment. The Entrance is free.
Contact:
Tel: 727 0672 or 263 0672
[email protected]
How to get there: Coming from Grand Baie, you have to take Royal Road till you are arriving in Péreybère. Pass by Merville Hotel (right side of the road) and turn off right at the next main road . Follow the road till you arrive in front of "Chi Spa". Now you have to turn off right and take the left turn, which is leading you directly to the gallery. To enter the garden, where you can park, you have to ring the bell.
Art & Craft Courses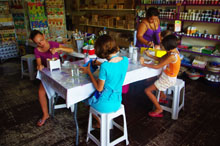 When you think of Mauritius the first things you associate with the island will be probably the beach, the sun and the ocean. However, the country has more to offer then sunbathing. Why not becoming creative during your holiday?
In the small town Pointe aux Cannoniers, which is next to the tourist centre Grand Baie, there are offered art and craft courses for children and adults. The courses take place in the shop "Casa déco", in which you can purchase all the necessary accessory. The nice and helpful course instructor Malorie will explain you every step and will give you advice. At the end of the course, you can take along your selfmade object.
Course offer:
Mosaic (7 years +)
Fabric painting (6 years +)
Decoupage (6 years +)
Candle making (7 years +)
Glass painting (6 years +)
Clay modelling (4 years +)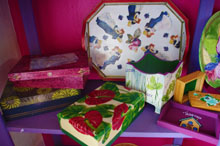 The courses for children take two hours. Those for adults take three hours. The price for one course is about 200 to 500 Rs. The accessory has to be purchased extra The price is depending on the objects and materials you choose, but normally it will not exceed 500 Rs.
Normally the morning courses start at 10 am, the afternoon courses at 2 pm. The course days can vary or can be made by appointment. On Tuesdays there are no courses.
If you want to join one of the art and craft courses, please contact the course instructor Malorie one day in advance.
Bookings:
Tel. 263 65 41 or 7180991
Trading hours:
Monday to Saturday: 9.30am – 5.30pm
Sunday: closed
Contact:
Casa déco
Route Royale
Pointe aux Cannoniers,Mauritius
[email protected]
(As from april 2010 Casa déco will be renamed as "Malorie´s gallery & craft shop")
Le Craft Market
In Caudan Waterfront in Port Louis, there are not only a plenty of shops, but also an arts and crafts market. It consists of forty stands set up on a double-floor open bazaar. Walking through the stands, one can find mainly souvenirs, such as essential oils from the Domaine de l'Ylang Ylang or beach towels and pareos. Besides you can buy handicrafts like gemstone jewellery, wooden masks, model ships, oil and silk paintings as well as sculptures.