Mauritius with Baby
Information
Mauritian people are very fond of children. It is a special experience to travel with your baby to Mauritius. No matter where you are, most of the time people are delighted to see a baby. They will greet you, ask how old your baby is and want to make them lough. It happens in restaurants that the waiter will carry your baby around so you have time to enjoy your dinner. It's Mauritian mentality to love children, be patient and caring.

Baby Food
In supermarkets one can find a variety of baby food and also diapers. They mainly come from South Africa and France. Nestle' and other well known brands like Pampers, Huggies, BebeCalin, Heintz and Rudolphs are available in all huge supermarkets.

Excursions in Mauritius with baby
If you are making an excursion with your baby in Mauritius, you should use a baby sling. Especially in nature parks there are staircases and narrow paths, which are not passable with the buggy. Also at markets, like the Central Market in Port Louis it is quiet inconvenient to use a stroller.
Normally you do not have to pay entrance fees for your baby.
In case you want to rent a car in Mauritius, you should ask the car rental agency if they rent a child´s safety seat. If not, you should bring your own.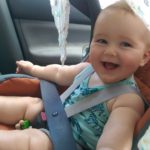 Children´s doctor in Grand Bay
The Children's Practice
Dr. Abdullah Atchia (children´s doctor and Neonatologist)
Suite 006
Grand Baie Business Park
Tel.: 263 1616 Mobile (just in case of emergency!): 5257 30 60
Fax: 263 2277
[email protected]
The doctor studied in Ireland. In aditon to his work in his own practice he is working stationery at Apollo Bramwell and Clinic Darné. He is very kind and helpful and also competent, as far as I can judge.
Travel by air
The long flight could be an obstacle, but nowadays the airlines are well prepared to have babies on board. Families travelling with infants will receive priority at boarding time. There are certain rules for the transport of babies and children, though.
Here you can find detailed information about the regulations of different airlines:
Condor
Air France
Air Mauritius
Emirates
The following information are referring mostly to the airline Condor. We can not guarantee, if other airlines have the same regulations.
Luggage:
Normally the baby is entitled to have 20 kg of luggage. Stroller and babyseat can be brought for free and are not included in the 20kg of luggage. If you ask at the check-in counter for a label for the buggy, you can use it till you enter the airplane. You can leave the buggy in the vestibule. It will be given back to you after the landing, directly at the exit of the airplane.
Hand luggage:
Baby food and drinks can be transported as hand luggage.
Seat:
There is the possibility to book a baby cot in advance. You are getting a place, where you have more legroom. In front of you is a holder where the cot is fixed. The cot will be brought and fixed after the take-off by the stewardess. In the airplanes of Condor the cots can be only put in the holder for babies who do not weigh more than 8 kg. Otherwise they will put it on the floor in front of you. Emirates provides cots which messures 74,93 cm x 33,02 cm x 16,51 cm for children, which weigh less than 11 kg. Air France provides cots for babies under 70 cm height and 10 kg weight. Air Mauritius provides cots for babies up to an age of 12 months and 11 kg.