Shopping
GRAND BAIE
Grand Baie Bazar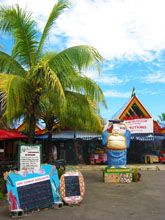 In the heart of Grand Baie there is the Grand Baie Bazar. On the way to the bazar you can find a plenty of shops on the right and left side of the road, which sell mostly souvenirs or clothes. At Grand Baie Bazar you can find a variety of stalls, where all kinds of things are offered. Here you can feel real bazar atmosphere: the vendors try to attract the tourists attention with their shouts to lure them into their small shops. There you can find mainly the typical souvenirs. Also a variety of cheap clothing is sold there, the quality might be not the best, though. Besides some stalls offer colourful bags, fabrics and handicrafts. Furthermore beautiful stone, silver and gold jewellery can be bought in certain shops. Do not hesitate to bargain at the bazar. In front of the Grand Baie Bazar you can still your hunger at a snack stand.
Opening hours:
Monday to Saturday: 6 am – 6 pm
Sunday and Public Holdiday: 6 am – 12pm
How to get there:
Coming from Pointe aux Cannoniers you have to follow the Royal Road to Grand Baie till you see on the right side of the road the chinese restaurant "La Jonque". After the restaurant you have to turn right and drive along the small road till you see a sign which hints at Grand Baie Bazar. Here you can find also parking spaces.
Super U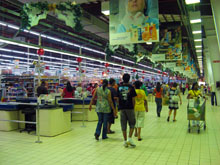 In Super U Hypermarket, which is located in Grand Baie, a self-caterer gets almost everything he can imagine. Baguette, jam, chocolate, mixed pickles, indian masala – there is nothing you can not find here. Super U has also a wide choice of fresh foods like cheese, meat and fish, vegetables and fruits. Not only ingredients of a decent meal can be bought in the big supermarket, but also things like souvenirs, snorkling equipment, clothes, shoes, books, magazines and newspapers.
Opposite to the checkout counter you can find various recommendable shops:                                                                                      'Bluesteel', 'Roxy', 'IV Play', 'Red Snapper' are clothing stores for the younger people. 'Une histoire d´amour' provides lovely lingerie. Beachwear can be found at the same-named shop. 'Lemon Yellow' has a wide choice of man´s shirts. If you are loking for jewellery 'Mikado' is hte right spot. For evening dresses you go and visit the store 'Tendances'. Even a pharmacy is to be found.
If you go outside this area you will find even more shopes on two storeys. 'Island Haze', 'Fashion House', 'Mr. Price', 'Peace Angels' and 'O`Neill' provide you with the latest fashion. Shops like Courts Home2Office and Happy World offer housewares and electronical devices. Of course you will also find jewellers, parfumeries like Mado or shops with accessiores like Gurlz. Also a craft market is to be found which is decorated in an asian style, where you can bargen not like in other shops. You will find just everything from shoe shops, wellness, a florist and also an optician.
'Food City' will provide you with a big variatiy of fast food like 'Wimpys', 'Steers', 'KFC', 'Pizza Hut' and 'Debonairs Pizza'. If you are looking for something sweet some cafes and an ice cream palour are also on spot.
Outside are bumper cars and other gaming machines for children and teenagers. The casino 'Ti Vegas' is also just next door for people who want to try their luck.
Opening hours of Super U:
Monday to Thursday: 9 a.m. – 8.30 p.m.
Friday and Saturday: 9 a.m. – 9.30 p.m.
Sunday and Public Holidays: 9 a.m. – 1.30 p.m.
On the left of Super U are also some other shops like an shop with electronical devices, the Mauritius Telecom and the 'Bookshop Papyrus', where zou can find post cards. If you like to send one to your beloved one´s at home. The Post Office is just next to Mauritius Telecom. (Opening hours of the post office: Monday to Friday: 8.15 a.m. -4 p.m. / Saturday: 8.15 a.m. – 11.45 a.m.)
How to get there:
Coming from Pointe aux Cannoniers, you have to follow the Royal Road. When you arrive in Grand Baie you have to drive till "Sunset Boulvard". At the traffic light you have to turn right and drive 200 meters till you see Super U and it´s big parking area on the left.
Sunset Boulevard
Sunset Boulevard is located in the middle of the tourist center Grand Baie. This is the right place to be for everbody who loves shopping. A plenty of shops are waiting to be discovered.
Are you looking for presents for your friends and family back home? Or would you like to buy a nice souvenir for your own? Then you should step in the big Souvenirshop between Ripcurl and Riverwoods. The prices are more expensive then in other Souvenirshops, though.
In the shop Macumba you can buy very nice furnishings and also clothes and accessories.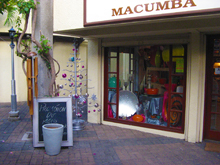 Modern and colourful clothes can be found at Bayahibe (wide choice of beachshorts), The Spot, 69Slam (Underwear) and Vivapaquita. Karl Kaiser and Café Cotton are selling precious men´s wear. River Woods and Equateuer offer nice and modest clothes.
In case you want to buy some jewellery you will find several jewelry stores like Poncini, Diamond Design, Mikado, Kavanagh, Mad´s, Passion and Helidore.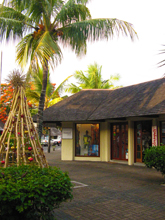 If you need a precious evening dress, than have a look at Tafta. This shop carries a
collection of beautiful corsages,and cocktail and ball dresses made out of thai silk. In the shop Obann women can find a trendy party outfit. Beautiful clothes ot ouf cashmere can be bought at In´Am. Oneye and Ripcurl sell Beach and Surfwear.
Certainly there is not a lack of stores which sell beach fashion. In the shop Montali Collection you can find beautiful but expensive bikinis, whereas you can buy cheaper beach fashion at Délire. Flip Flops in a modern and colourful design can be bought at Ipanema, Gisele Bündchen´s own brand.
At Sunset Boulevard the shops are opened from Monday to Saturday til 6 pm, some til 7 pm. On Sunday the Shops close between 12 and 13 o´ clock.
Grand Baie Store Plaza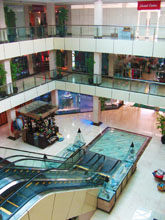 Grand Baie Store Plaza was opened two years ago. Today it is one of the best shopping centers in the north. There are around thirty stores in the modern two-storey building. Especially high-quality products and international brands can be found at Grand Baie Store Plaza.
In the shopping center you can find everything you can think of. Most of the shops are clothing stores. Besides there are a perfumeries, as well as several jewellery shops and footwear stores.
On the ground floor there is the café La Fournaise, an art gallery and four stalls, which offer nice souvenirs and accessories.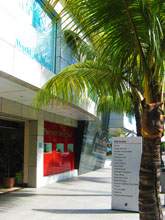 We recommend the following shops: Indya Vogue sells colorful and fancy indian style fashion. The store Via Condotti Fashion imports brands like Marc Jacobs, Ed Hardy and Burberry from Europe and Asia. Shakini Beachwear offers a variety of high-quality beachwear, which is imported from Germany, Brazil, Italy and the USA. The shop Sweet Sugar has nice accessories and women´s clothing in romantic design.
Grand Baie Store Plaza is not the place for bargain hunting, but you will get some nice and high-qualitiy products at this shopping center.
Openinghours:
Monday to Saturday: 9h00 – 19h30
Sunday and Public Holidays: 9h30 – 13h30
How to get there: Coming from Pointe aux Cannoniers, you have to drive along Royal Road until you arrive at Sunset Boulevard in Grand Baie. Approximately 50 meters after the traffic light you find the shopping center on the right side of the main road.
FLIC EN FLAC
Pasadena Village
In the middle of the vivid city Flic en Flac there is a big Spar supermarket with a wide range of goods. Directly next to Spar you can find Pasadena Village, where a variety of nice shops are located.
The shop "M.Pei Crafts" offers beautiful souvenirs for a reasonable price. Besides postcards you can get nice presents, necklaces and bracelets out of shells, dodos, as well as colorful kitchenware, which will remind you of your holiday in Mauritius.
Also the famous brand "Billabong" is represented with a shop at Pasadena Village. Here women as well as men can purchase fashionable Beach- and Surfwear.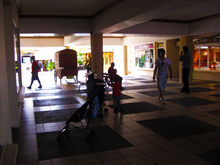 "Café Coton" offers a big variety of man´s shirts. "Baobab Company" sells clothing of the same-named brand. In "Splash Boutik" cheap women´s and men´s clothing can be bought. "La Taillerie Ltd." has nice jewellery. Famous brands like Ripcurl, Quicksilver or DC can be found at "Island Style Surfshop", whereas nice bikinis and swim suits can be purchased at "Beachwear". If you need pareos, sun glasses, beach towels, bathing shoes or snorkling equipment than "Westcoast Lifestyles" is the right place to have a look at.
In case you need a pharmacy during your holiday, one can be found here.
Besides all the shops, a tourist information is located at Pasadena Village. There you get information for free.
Opening hours of tourist information:
Monday to friday: 10 am – 4.30 pm
Saturday and sunday: 10 am – 12 pm
Tel. 453 8660
Opening hours of Pasadena Village:
10 am – 17.30 pm
Opening hours of Spar:
Monday to saturday: 08 am – 8 pm
Sunday and public holiday: 08 am – 5pm
GOODLANDS
Approximately 10 km east of Grand Baie there is the small town Goodlands. The town is influenced by it´s mainly Indo-Mauritian inhabitants and is economically the most significant city of the north.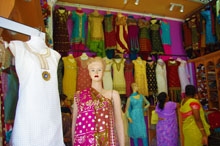 Goodlands is well known because of it´s good shopping facilities. Alongside the busy main road you can find a plenty of shops on both sides of the roads. Especially the latest indian fashion can be found here. If you want to purchase an indian piece of clothing, like a saree, custome jewellery or colorful fabrics Goodlands is the right place to be! Little statues and pictures of Hindu deities can be bought in various shops and stalls. Some shops offer a small choice of clothing coming from factory outlets. On Tuesdays and Fridays you have the possibilty to look for bargains at the clothing market. On Wednesdays and Saturdays there is a fruit and vegetable market at the east end of the town.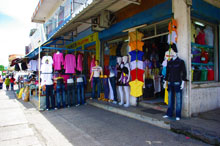 In case you want to do some sightseeing you can visit the colorful Hindu temple at the end of the town. Also the famous ship model factory "Historic Marine" is worth to visit. If you are interested in buying a ship model, you can purchase it directly at the factory. 100 meters after the ship model factory you can find a supermarket which offers a wide range of foods.
When driving from Goodlands to the north, some metres outside the city, big signs guide the way to the fabric outlet "Island Store". The shop is situated in a fabric, where guests can h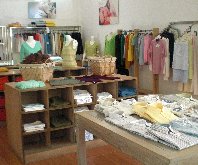 ave a guided tour aswell. It is opened from 9a.m. to 7 p.m. After you could see the production you can have a look at the store. Fine Knitwear products and shirts of the brands Arrow, Maille Street, IN'AM, Equateur and some more can be purchased.
For example IN'AM is a well-known Mauritian brand which is famous for its cashmere pullovers. Despite of the price reduction, the textiles can not be concerned as cheap, but the quality makes worth its price.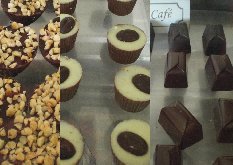 Surrounded by sugar cane, some kilometres drive from Goodlands to the no
rth, in Petit Raffray, the only chocolatier of the island is situated: Van
Ann. Enclosed to the fabric there is a little store in which the little treats can be purchased.
Beside Chocolate-Dodos and seasonal specialities, chocolates in the flavours vanille, café, cappuchino, coconut, caramel, black truffle, mint, pineapple and many more are available.  The shop is opened monday to friday from 8 a.m. to 3 p.m.
QUATRE BORNES
Quatre Bornes offers various shopping facilities. In the center which is located around the main street, the best shops can be found. There are uncountably many small shops and a huge but old shopping mall. Some meters away there is a the market place on which a  on Tuesdays and Sundays a big market which specializes in textiles at an affordable price for all budgets takes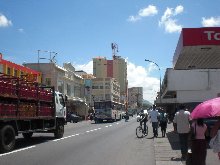 place. Some minutes drive out of Quatre Bornes there are some more modern shopping malls.
Locals especially like to shop in the Orchard Center, a huge shopping mall in the middle of the main road. The products vary from shoes to motorcycles, lingerie, Indian clothes of high quality and also kitchen utensils from Tupperware.
There can also be found a Spar-Supermarket and a Cybercafe. After some exhausting shopping you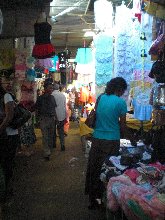 can just visit one of the spas to recreate and start off to a new round. I especially like the shop "Diane" in the first floor, in which you can buy African clothes and souvenirs with an edge. Also in the first floor there are many shops selling Sports- and Surfwear. Behind the Orchard Center a multi-storey car park can be found. A signpost at the market guides the way.
I can highly recommend the market of Quatre Bornes for bargain hunters. Thursdays and Sundays there a huge market selling textiles takes place. Mauritians from all over the country travel here because of the big choice and the high possibility to make a great deal. I would recommend you to come quite early in the morning, around 9, as the choice is the best at that time and not many tourists are around. At around 4 p.m. the merchants start to bundle together all their goods for sale. At the entrance to the market Roti, Briani, ice-cream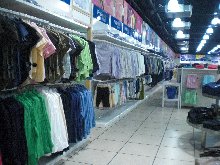 , Longan and coconuts are sold.
Take some time to carefully check the products. Besides foreign low-quality products you can also find plenty of "made-in-mauritius" articles at an extremely low price. Those articles are often surplus production of the local factories which produce clothes for foreign markets. Usually you should not pay more than 150 Rs per branded T-Shirt. Bargaining is still possible. In addition to branded articles and cheap copies you can also find jewelries, fabrics, sunglasses, souvenirs and much more. The choice does not seem to have an end and there should be articles according to any taste as almost none leaves the market with filled shopping bags.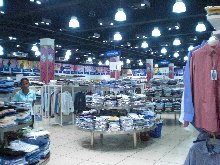 If you still have some money left you can visit the Emerald Park. It is very easy to find when you are on the motorway from Port Louis. There you just turn to the left at the big sign showing Emerald Park. Here you can find Mr. Bricolage, a furniture shop, two restaurants and a Adidas shop. The highlight there is the shop Pride Mark.
There they sell branded articles at very low rates. The nice thing about it is that all the clothes are well assorted. Many different sizes and colors are available and the friendly staff willingly helps clients. This place is especially good to buy blouses and shirts. Furthermore there are bikinis, lingerie, shoes, T-Shirts, shorts and Polo-Shirts. Depending on the season there are different brands available. Those are at the moment River Wood, Land's End, Tommy Hilfiger, JLO and many more.