Fun Adventure Seakarts – Ride/rent your own speed boat
On Mauritius west coast you will find the worldwide first six seakarts. The company Fun Adventure offers these high fun factore rides. With this activity you will find out how it would feel like to skip a speed boat on your own and a lot of fun is garanteed.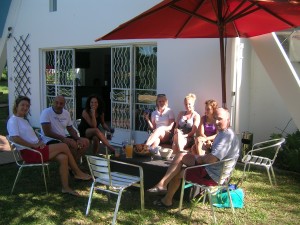 The Tour starts at 9 am in Tamarin in the centre of Fun Adventure with a small breakfast. When every participant has arrived, there will be a few formalities and after that a brief describing what a seakart is, how you use it and what else you have to pay attention to. After this you will go down to the beach and into the kart to start the fun.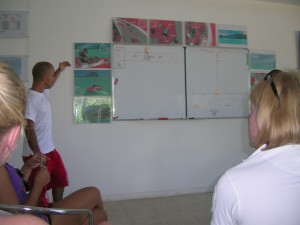 Of course you will always have someone supervising you and assisting you in case of an emergency. The big boat of Fun Adventure leads you the whole way and on it are among others a photographer to shoot some memories for a great adventure. After leaving the bay slowly all you have to pay attention to is keeping a safty distance of 50 meters to the other seakarts. Who does not obey has to expect that his engine will be cut of by the superviser.
First you have to get used to skip the kart asspecially as a motorist you have to stop thinking it is just like on the road. In fact when the kart is slowly it is harder to steer it straight then when you go fast. You really have to accelerate to get the kart going and do not hesitate.

All the tour is in the safe lagoon and from here you can enjoy beautiful views of Mauritius west coast and of course the sun. The destination is Ile aux Benetier from where you can see crystal rock and take a swim in the crystal clear water. You stop here for about 30 minutes before you race over the Indian Ocean again.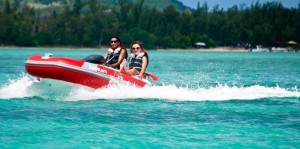 Skipping the kart you could almost feel like James Bond on his secret mission. It is really fun steerign your own "boat" and who never dreamed about racing on the ocean? When the sea is flat it is optimal to skip the kart but it is a lot more fun just racing towards a wave and get showered by it.
Who does like to take it a more easy it is also no problem but as the guiding boat of Fun Adventure is always supervising, you can be sure to be in safe hands.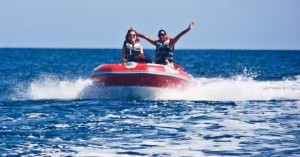 Fun Adventure offers half or full day trips. Prices you will get on request.
Contact:
Fun Adventure
Tel: (230) 499 49 29